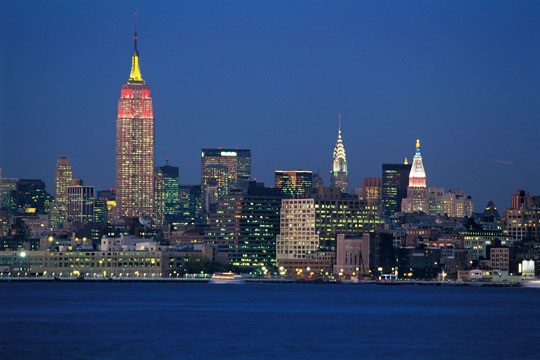 Day One:
It's Christmas time in the City as we are welcomed to New York City! The media capital of the world and largest metropolitan area in the country, it is a place of relentless energy burning with world-class attractions and experiences. Upon arrival at the airport our tour guide and motorcoach will greet us and we will travel to our Times Square hotel to freshen up before dinner.

Day Two: Full Day City Tour & Broadway Show (D, E)
Today we will enjoy a full day tour of New York City by motorcoach and some walking as we drive by former and current homes of New York's wealthy and well-known. See the mansions of the Upper East Side, famous penthouses and some of the former homes of the Astors and Vanderbilts. Drive by the United Nations building on the East River. We will see and neighborhoods such as Greenwich Village, SoHo, Chinatown, Little Italy, etc. This tour will provide ample time to explore do some shopping and have a nice lunch on our own before we continue in the afternoon with strolling by Rockefeller Center, Carnegie Hall, Central Park, Lincoln Center, and the Time Warner Center. But the day isn't over yet. Following dinner this evening we will enjoy a wonderful Broadway Play or Musical in the Theatre District! Broadway, it is a word that immediately brings to mind great American plays and musicals and thoughts of people standing outside the stage door to get an autograph or even glimpse of the star of the show. The "Great White Way" as it has been called, has more than 30 theaters stretching from 40th to 65th Streets.

Day Four: Lower Manhattan & Rockettes (D, E)
Our morning begins with a ferry ride around New York harbor that will tour by the Statue of Liberty, where we will view France's gift of International Friendship to the US. Located on Liberty Island in New York Harbor, the Statue of Liberty is one of the most universal symbols of political freedom and democracy. Here we will get a wonderful up close and personal view of the Lady as she stands in New York Harbor, since 1886. The cruise will continue and go by Ellis Island where over 100 million can trace their immigrant roots to. Between 1892 and 1954, 12 million immigrants entered the United States through this door and began their journey in this brave new world. After arriving back in Manhattan your guide will show you the downtown area including "Ground Zero" and a guided tour of the 9/11 memorial the site of the former World Trade Center. At this 16-acre site, we reflect on this tragic time in our history, which has affected us all and see the magnificence of the new One World Trade Center. As Rudy Giuliani said "you will feel the sacrifice of our patriots and their heroism…Where you will feel the great power and strength and emotion of what it means to be an American." Then it's back to your hotel before an early dinner and a great evening at Radio City Music Hall and the Christmas Spectacular featuring the Rockettes.

Day Five: Rockefeller Center and Home (CB)
Rise and shine for an adventure to NBC's live national broadcast of the Today Show. Wave to your friends and families and bring your signs! Then, just a few short steps away, visit New York's "newest" attraction – the Top of the Rock in Rockefeller Center. The experience begins as you enter with a thrilling interactive look back in time. You may even try the "beam walk" that simulates the experience of the construction workers that built the observation deck over 70 years ago. Then take the high-speed Summit Shuttle elevators to the recently renovated 70-story-high observation deck, enjoy the open-air 360-degree view through crystal clear glass panels. Then we depart for our trip homeward bound, with the most wonderful memories of New York City, "the Big Apple", which will stay with us forever.
---
TOUR INCLUDES:
3 nights quality Hotel accommodations in Times Square (such as the Millennium)
Baggage handling of one large suitcase per person
All attraction admissions and fees as outlined in the itinerary including 1 Broadway Show & the Rockettes
Applicable lodging and meal taxes and gratuities
4 days professional tour guide service
4 days motorcoach, transfers to and from Airport and attractions
2 Dinners (breakfasts are best done on your own in NY as we will have time and lots of choices very inexpensively right around the hotel).
Gratuities for the Professional Tour Guide & motorcoach Driver
One Complimentary Land Package for one Club Director
Cancellation protection waiver
Hometown transfers
NOT INCLUDED:
Items of a personal nature
Commissions
Comprehensive Travel Insurance
Airfare is not included but can be booked 300 days before trip