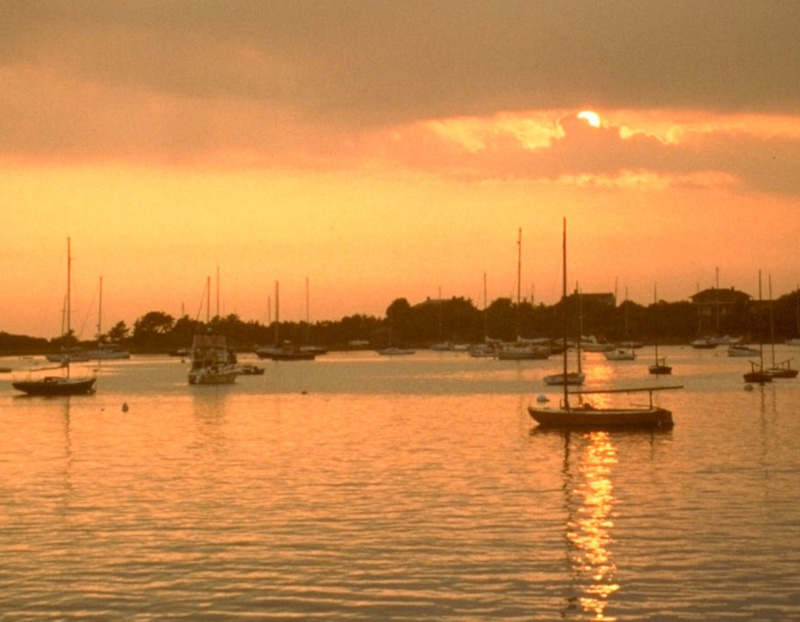 Day One: Rhode Island (D)
We will arrive at the Airport where our Tour Director and Motorcoach will greet us. We will then travel to Newport, RI, and our accommodations for the next two nights. Newport, a colonial trading port, combining charm, history and style, has enjoyed a reputation as an international world class resort since the 1800's. Once we get settled into our hotel we will enjoy a relaxing dinner before settling in for the evening.

Day Two: Rhode Island (B)
Following breakfast this morning we will depart by ferry for Block Island. Truly Nature's Treasure on the Sea, Block Island offers an unspoiled rural setting where a visitor can feel like they have stepped back to a gentler, quieter time. We will enjoy a guided tour of the Scenic Mohegan Bluffs and Lighthouses of this historic resort followed by free time to explore on our own. We will return to Newport and have an opportunity to enjoy dinner on our own before returning to our hotel for the evening.

Day Three: Cape Cod (B, D)
This morning we will tour the 10 mile ocean drive, along which we can see many of the "summer cottages" built at the turn of the century by this country's rich and famous such as the Vanderbilts, Bouviers and Oerlichs. These homes played host to an era known as the "Gilded Age" as their occupants spent their summer's entertaining in these lavish homes. We will enjoy tours of two of these opulent mansions. This afternoon we will continue on to Cape Cod, where we will overnight for the next four nights.

Day Four: Cape Cod (B)
This morning after breakfast we will ferry over to Martha's Vineyard and tour the famous "Storybook" Island. Martha's Vineyard does indeed have an active winery, but it is best known as the summer residence of many of today's wealthy and prominent people. People who have maintained homes on the Island are the Kennedy family, John Belushi, Carly Simon and of course the Clinton's and Obama's enjoyed several vacations here as well. The Island is quite large and we will enjoy a tour throughout the Island. We will see Gayhead Cliffs, tour Oak Bluffs and stroll amidst the colorful Victorian Gingerbread Cottages of the Methodist campground. This afternoon, we will explore Edgartown, once an old whaling port lined with all of its sea captain's homes. This evening we will ferry back to Cape Cod and enjoy dinner on our own.

Day Five: Cape Cod (B, Lobster D)
Today we will explore the commercial center of Hyannis, boasting the largest population and best known as the home of the Kennedy family and their well-known "compound". We will drive by some of the local sights such as the Kennedy Compound and Saint Francis Xavier Church where the Kennedy's enjoyed Sunday Mass. We will stop at the Kennedy Memorial overlooking Lewis Bay. This circular fieldstone wall bears a likeness of the President on one side, the Presidential Seal on the other and is surrounded by a reflecting pool and fountain. The Kennedy Museum is a must see! It has many photographs of the Kennedys that are not often seen. Enjoy the short video and the gallery before heading out to enjoy Main Street Hyannis with all its shops and boutiques. This afternoon it's all aboard a Whale Watch Cruise to enjoy the sunshine and search for the exciting and entertaining marine mammals just a splash away! As we sail toward the whale feeding grounds the on-board naturalists will provide an informative and entertaining commentary on the Cape's unique eco-system and the creatures that dwell here. It will be a truly unforgettable experience and the highlight of our trip. Tonight we will enjoy a Lobster Dinner.

Day Six: Cape Cod (B, D)
Today we will board our ferry to Nantucket and enjoy a tour. We will have time to stroll along the cobblestone streets and visit some of the many quaint shops that line them. If you love small shops with fine merchandise, it is here that you'll find paradise in Nantucket Town. Just as the island's old-time sea captains traveled the world and brought home exotic wares of distant ports, toady's shopkeepers import the best from all over without neglecting the quality items produced right here on the island. We will view Brant Point Light, the second-oldest lighthouse in the United States. Photographs of its Christmas wreath have graced numerous magazine pages. This is the lighthouse you see when entering the harbor on the ferry. Located right by the lighthouse is Brant Point Beach, which has spectacular views of the harbor. It's a great place to just sit and watch the boats rounding the point. We will return to the Cape and enjoy dinner before retiring for the evening.

Day Seven: (B)
This morning after breakfast we will bid farewell to "Olde Cape Cod" as we head towards Boston for our departure. Depending on our flight times, we may visit the John F. Kennedy Library and Museum where we will be free to enjoy a self-guided tour through "Camelot" history. The Kennedy era is recreated in documents, displays, and memorabilia from the life of our 35th President. As we head to the airport we will be taking with us fond memories of our tour through the islands and bays of New England.
---
TOUR INCLUDES:
6 nights quality accommodations
Baggage handling of one large suitcase per person
All attraction admissions and fees as outlined in the itinerary
Applicable lodging and meal taxes and gratuities
7 days professional guide service
7 days deluxe motorcoach transportation
10 Meals: 6 Breakfasts & 4 Dinners including one Lobster dinner
Gratuities for the Professional Tour Guide & motorcoach Driver
2 complimentary land package for Club Director in a shared double room
Hometown transfers
NOT INCLUDED
Airfare – Group arrangements available for 10 pax or more (out of CID or ORD)
Comprehensive Travel Insurance
Bank commission